View our upcoming Fitting Day Sessions >
Playing with a properly fitted driver, putter, irons or wedges is the fastest way to improve your performance on the course. Most times, those improvements show up almost immediately, too.
You don't need to be a highly skilled golfer to be a candidate for club fitting, either. In fact, beginners often get more out of a professional club fitting session than a more experienced golfer, because the beginner usually has clubs far less suitable to their swing.
When you schedule a club fitting or putter fitting at The Golf Dome, your fitter will spend time listening to your preferences and learning about your game. You'll discuss your playing history, your goals, your current skill level. Bring your current clubs with you to the fitting, too; it's a good starting baseline from which to evaluate.
The fitter will select clubheads and shafts from an array of different brand manufacturers that have the best chance suit your game. (Unless it's a putter fitting with Ken Flanigan of Flanigan Bilt Putters — he'll build you a putter from his custom-crafted components right from the ground up!)
Once you've tried various brands, shafts and specs, your fitter will show you the data from your session. The fitter will explain the numbers in as much detail as you want. Then based on those numbers and your input, the fitter will recommend a set to match your game. It's easy. And fun.
View our upcoming Fitting Day Sessions >
Questions about club fittings? Please email us.


OUR CLUB FITTING PROFESSIONALS
Custom Fittings with Jim Troy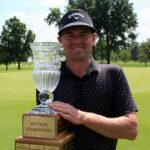 In addition to hosting Fitting Events, The Golf Dome is now proud to offer custom club fittings with Jim Troy. Now you can book a club fitting directly with us and get fit for new set of clubs from Callaway, PING, TaylorMade, Titleist, Mizuno, XXIO and more, all on your own schedule! This gives you the best opportunity to see what club(s) suit you best and receive better pricing than the big box stores in the process.
Our fitting appointments allows to you be fit for one club up to an entire bag.
· 1 club category (Driver, Fairway Wood(s), Hybrid(s), Wedge(s): up to 45 minutes ($90)
· Iron Set: up to 1 hour ($125)
· 2 club categories (Driver, Fairway Wood(s), Hybrid(s), Wedge(s): up to 1.5 hours ($175)
· Full Bag: up to 2.5 hours ($250)
BONUS: when you purchase clubs within a week of your fitting you will also receive up to 4 hours of TrackMan Studio Time to use with your purchase!
BOOK A CLUB FITTING WITH JIM TROY >